An hour of Kenyan music inspired by the release of the excellent compilation BengaBelt.
Featuring  a few tracks from that compilation, a few old benga 7"s, Kenyan country guitar from George Mukabi and Francis Macharia and some tracks from the wonderful "Kenya Special" Volume One and Volume Two compilations.
Something about East Africa - these people have some of the most joyous music in the world.
We start, as we have done a few times before, with the wonderful George Mukabi, a pioneer of the Kenyan country guitar style. A compilation of his tunes was recently released as a collaboration between three labels - Olvido Records (whose entire catalogue seems to consist of Greek and Kenyan country music), Raw Music International and the amazing Mississippi Records - a label issuing a staggering amount of really outstanding obscure reissues from around the world.
Kenya, of course, is the home of Benga - that joyful, driving 4/4 beat. But sometimes when I listen to what is coming out of Kenya now, when I listen to what comes out of many countries now, it seems like all the classic music is being forgotten - everything is being swamped by awful western pop music, the new stuff is just autotune-soaked bland electronic copies of American music. But over and over - and this goes for music in almost every culture that interests me, something comes along that shows that the old rhythms and textures are still there - people aren't forgetting, they're just reinventing what was always there with the new tools and technology at their disposal.
This is the whole idea behind the BengaBelt compilation - a wonderful collection of new music from Kenya rooted firmly in the Benga tradition but with a contemporary approach. As the notes on the Bandcamp page explain
Benga Belt Vol. 1 album is a clear attempt at unifying the pop sounds of Kenya, rooted in the cultural heritage of benga music and drawing creative inspiration from the Benga Belt of Kenya (from Kisumu in Western Kenya to Kilifi in South East of Kenya)
the man behind the album, Gregg Tendwa, explains it well in this great interview, where he talks at length about "textures" - the intrinsic "feel" of a kind of music - and how he put a lot of thought and energy into preserving the Benga texture:
I love this interview because Gregg obviously cares deeply about his traditions, but doesn't want to preserve them in a museum - to him they are living things, changing and responding to the changing world around them. I love the fact that he has thought deeply about the contemporary music of Kenya and how it relates to the many traditions, and how best to capture that music in a way that draws out this relationship while still making room for the novelty of these new sounds.
I think Gregg's words from the interview are worth quoting at length:
The whole idea around the album is that it captures sounds from the western region of Kenya, that is Nyanza, through The Rift Valley and Central Kenya all the way to the Eastern side, and that's why we call it Bengabelt.
Bengatronics is a sound, is an intersection of Benga in its authentic format, with cutting-edge Electronica and also borrowing influences from other genres.
For example the song "Kanonge" by Boaz Jagingo features the orutu....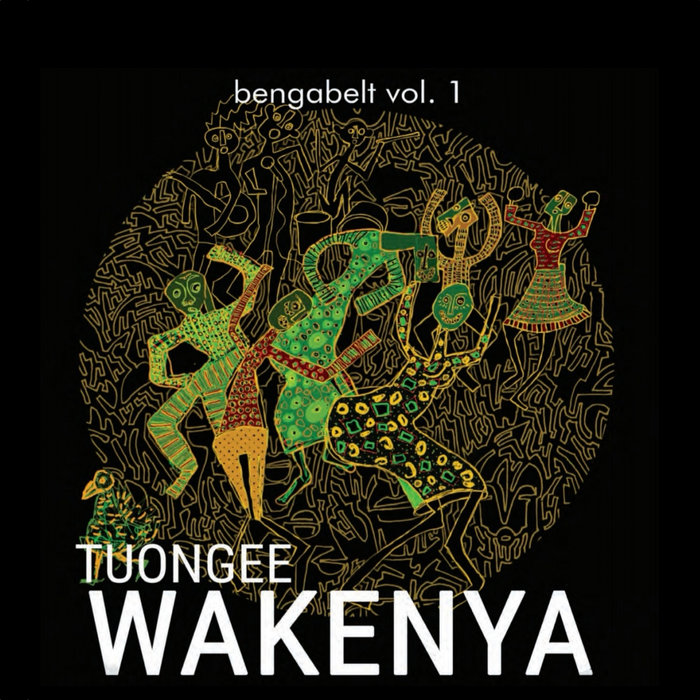 ...Some people call it African Violin, or right maybe the Kenyan violin. It's a single stringed instrument, it comes from the lake-side as well. It has a very unique sound texture and... we didn't interfere with that sound texture... Boaz comes from a group called Kenge Kenge... who hold Kenyan folk culture high across the globe... they play multiple instruments, they play orutu, they play the Bul drums, which are the traditional drums of the Luo people, they play interesting flutes from the Lakeside, the Nyatiti and stuff like that. But also their music is very rich in culture...
Boaz and I met at a Studios a way back... when we began this project I was like "he's the right guy" to... give us a texture of what comes from that side that has a bit of a pop feel but in itself at the back you can also get some very traditional textures.
BO: How do you retain that original Benga sound? That nice groove, that distinctive groove while still bringing all the electronic elements. That was a challenging job to do and to think that it came out as well as it did.
GT: Absolutely, but I also brought some professionals on to this as well. I worked on this together with a group from a small town in the Netherlands called Harlem and they're called Umoja... It took a year to think through each of the tracks on the album. We recorded in May 2018, it's coming out in July 2019, and we're working remotely. They're based in the Netherlands, we're based in Kenya and we did all the whole recording here and then they moved with the material. And so to retain this texture we had to spend a lot more time together just listening to any of the influences of music - Benga you know, and all that kind of stuff. And we were in agreement that we will do very many minimal electronica on this particular edition.
...Missing Rotich and his song Mitindo?? He sings about our traditions, he sings about how we should not ape other people's culture, we should retain our own culture and his song Mitindo?? It's not purely Benga, but it has a Benga textures into it. If you ask me this song has a bit of Soukous influence into it.
He is an artist that I met here at the National Theater, 2013. And I admired... his prowess in music - he's good on guitars, he's good on all guitars - bass guitars, rhythm guitars - his vocals are quite unique. I mean, he's a dedicated musician and quite seasoned in the discipline that he plays. He also plays in Reggae and other different formats and he's quite a saught after backup band player for many bands in the city. So I thought he would bring a lot of instrumentation on this...
---
The interview finishes with my favourite tune from the album -  Hello Hello by Msupa S. We can actually see the development of the song, which is a great illustration of everything I've been talking about. This is a really good illustration of what Gregg has achieved. The original version version (April 2018) is recorded with generic 8-bit African pop synth backing track - it sounds like it could be the soundtrack from a 90's handheld game console. O love the sheer exuberance of the vocals, but musically this is throwaway junk, right?
But take a listen to the version from the Benga Belt compilation...
...it's a really great sort-of Benga tune.
And in the interview they talk about how Msupa S has "the real superstar attitude" - to get a sense of what they are talking about check out this video...
... I've worked with photographers who talk about how some people - the camera just loves them - they glow on screen. She's got this - everyone else seems to fade into the background a little when she's in shot. She really reminds me of Cyndi Lauper in the 80's - a very raw, physical talent, a voice that switches from sexy-swagger  to vulnerable in an instant...
---
For more about Gregg check out his Facebook page and his blog where he describes himself as "Thinker, Teacher, Futurist" and shows he has a lot of interesting things to say on many issues. Also checkout out his mixcloud page for loads more great East African music.
---
A fitting way to conclude would be with this excellent playlist of classic Benga 45's from DJ Guzz: